Front coupler – tub crossmembr assy – landing gear frame – upper subframe slider rail assy – rear frame – rear impact guard are all hot dipped galvanized to increase life cycle of trailer by eliminating premature corrosion.
The 7.50 mm thick composite panels with a full hat section logistic posts on 48" centers in combination with a heavy duty designed extruded aluminum lower and upper rail connections allowing for one of the strongest industry's sidewall construction.
(5) full 16 ga. Steel galvanized hat section posts with two .050 pre-painted white aluminum panels eliminating an extra panel lap and a full corner radius corner extrusion and capped with an aluminum corner casting featuring one of the stongest front walls in the industry.
Utilizes a 7ga x 2 x 4 rectangle strucutral tube post and header – with a high strength rear sill fully length weld to a ½" x 6" full width bottom bar and ½"x 6" upper corner angle reinforcements stabilizing the header and posts for anti rear frame racking feature.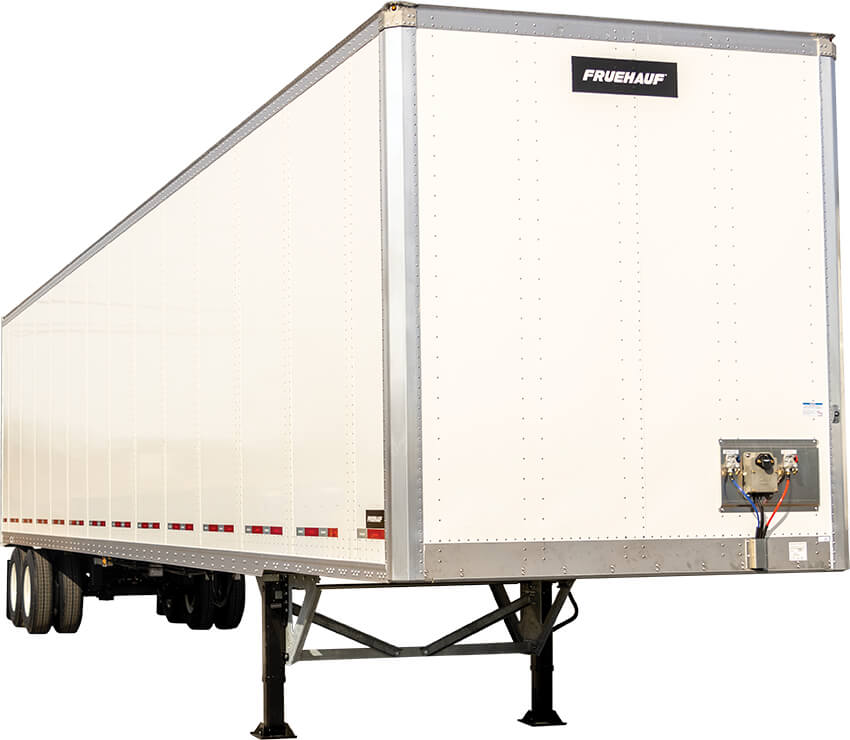 53' 0" O.A. Length          13' 6" O.A. Height
110.00 I.S. Height           102.36" O.A. Width
101.00" I.S. Width           52' 6 5/8" I.S. Length
GVWR: 69,000 lbs.         GAWR: (2) @ 20,000 lbs.
7.5 mm Composite panel pp white
14 ga. Steel galvanized logistic hat post – 48" ctrs.
Extruded lower rail with 6" integral scuff
6" Corrugated steel scuff above for 12" protection
Extruded upper raill with overlap protection on panels
Structural steel rectangle tube for post and header
Rear sill with ½" bottom bar and 3/8" light protector
½" Post protectors at top and bottom
½" Structural steel corner angles at top
Bolt-on rear impact guard
13 mm Composite door panels with dual lockrods
(4) Aluminum hinges per door
(5) Post steel hat – 80 k galvanize
 (2) .050 aluminum pp white panels
Full one-piece aluminum extruded upper rail
Stainless steel lower mounting plate
Extruded aluminum corners
Aluminum top corner casting
(6) XMBR mount with bolt on wing plate & Bolt on k-bracing
All led lights with sealed harness
One piece .050 aluminum panel attached
Full perimeter with retainer plate
Anti-sang 18 ga. Galvanized steel roof
Bows on 24" centers – bonded to panel
Mechanical Spring or Air Ride – 49" Axle Spacing – "P" Spindles –
2s/1m ABS – 30-30 Brake Chambers
5 ½" Auto Slack Adjuster – Hub Piloted W/ Cast Drum –
Steel PP White Disc Wheels
All designs are subject to change. Please contact a Fruehauf dealer for updated information.